D2S-V1 Bi-Xenon Projectors, 3in Lens w/Shrouds
Details & Product Specs
Click Here to Add a D2S HID Kit
Free Shrouds Plus Free Shipping
The DDM Tuning D2S Projectors are what retrofits are made for. Each projector is hand picked to ensure the highest quality.


Beam Pattern: Perfect light distribution will give plenty of light on the road in front of you while maximizing the output down the road. Incredibly sharp cutoff. The hot spot is located right at the cutoff to give phenomenal low and high beam output.

Construction:
Lens: Optically clear Grade A glass. Only the best lens is used for these projectors.

Lens Holder: Make of a high temp nylon / fiber glass composite to withstand up to 220 celsius (438 F).

Solenoid:
We use a large (strong) magnetic solenoid that will pull the high beam shutter all the way to allow more light output when on high beams. With the larger solenoid we designed a deeper high beam that will illuminate further down the road.

Reflector Bowl:
After casting the mold each reflector is polished smooth to remove any imperfections then coated with a high temp chrome coating that is again polished to a mirror finish to reflect more light forward. The chrome coating can withstand the heat from both 35W and 55W HID systems without burning or yellowing over time.

Mounting: H4 plates are included at no charge to allow for easier installation. Comes with rubber gaskets to properly seal the projector in place.

Warranty: All DDM Projectors come with a lifetime warranty.

Kit includes:
2 x D2S Projectors
Mounting Hardware (H4 plates)
Gasket
2 x Shrouds of your choosing
Width:
103mm
Height: 79.4mm
Length: 143.5mm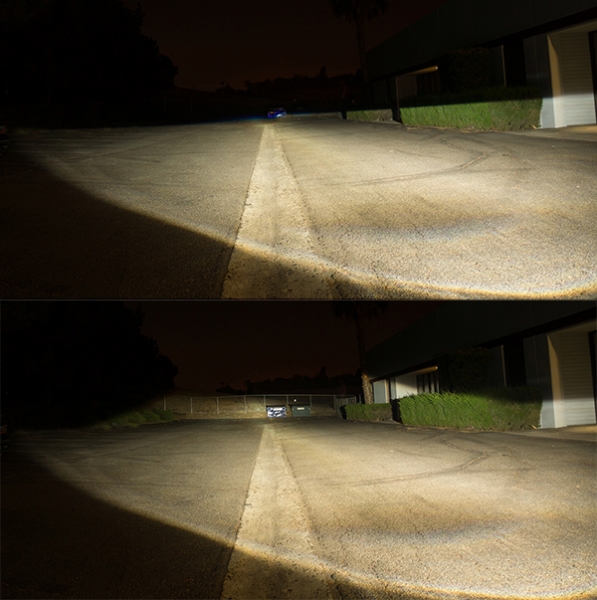 Customer Photos
There are no customer uploaded photos for this product yet. Be the first to share your photos with other auto enthusiasts.
Click here to upload your photo
.
Product Reviews
Randy Fox 09/09/2015
DDM Tuning Bi-Xenon D2S Projectors, V1, 3in Lens

I ordered these from DDM and can't believe how much nicer it is than the BI-XENON: MORIMOTO MINI H1 6.0

Running DDM Ultra HID Kit 55W 5500K bulbs

PROS:
- Light distribution is Excellent, with 4x as much light along the cutoff Vs TRS Mini H1's, which gives way more distance throw
- Less foreground lighting to blind you excellent ratio of foreground-to-distance light
- Solenoid sounds way beefier big 'thunk' when it is fired, compared to a little 'clack' of the Mini H1
- Razor sharp cut-off line!! Nice line of purple and blue when running DDM 55W Ultra HID Kit.
- The highbeam on these have Excellent height due to the high beam shutter design in that it pulls down VS other shutters that pivots from the right side.

CONS: Very little except
D2S projectors are large and for the most part will need allot of room to install so be sure to do your homework be for you install them..

SUMMARY:
extremely happy with the results, and now I have the brightest Car I have ever seen on the road at night. Riding behind any new Lexus/Audi/Acura with their bright new LED headlights, my projectors still lights up the road far in front of them, and out shines them side-by-side on the highway. It's amazing! Plus the razor sharp cutoff is so obvious.

Also, DDM support has exceeded my expectations,
Billy 08/12/2015
The E46 Sedan 02-05 was known for having the stock HID burn the reflector bowl over time so changing to newer bulbs didn't help. A buddy told me about these and I was able to replace by stock projectors with these with a minimal amount of work. Make sure to use the E46-R shrouds if you're doing this upgrade.
Customers Who Bought This Item Also Bought These